Risus: A Kringle in Time
A downloadable Christmas mega-module

From the lights of New York City to the dark woods of old Wales ...

From the catacombs beneath Jerusalem to the gingerbread cottages of the North Pole...
A light shines in a manger. Another glows from a reindeer's nose. Another moves in the shadows, a spectre of the dead.
A darkness falls over Christmas.
An unforgettably naughty comedy.
A satisfying, meaty, g**-damn-that-was-good epic campaign adventure.
... That's a breeze to prep for?
Yes, Virginia, there is... A Kringle in Time
In the pages of A Kringle in Time, you'll find equal portions of mad GMing confidence and what-the-f**k surprises (for yourself and for your players), from the admittedly wicked and possibly warped mind of S. John Ross. Some features at a glance:
Lavishly illustrated and mapped in the Mighty Risus Manner, with more than a hundred works of (stick) art to draw you into Kringle's world.
Spiffy printable handout clues, to give your players things to think deep and meaningful thoughts about, pass back and forth, and doodle on.
Locations ranging from the intimate to the epic, from crashing with new friends in a Greenwich Village apartment to exploring the streets of ancient Jerusalem. The adventure's cartography is scribbled to the same exacting standards as the illustrations.
Rather a lot of sex, cannibalism, blasphemy and iconoclasm. Usually two or three of them at once.
Game Master-friendly writing and organization, including notes on how to expand or contract the adventure at critical points, to customize it to your group's pace and available schedule
Conflicts both martial and personal. Battle for the confused soul of a cult leader, engage in gut-wrenching duels of Christmas caroling, and beat the crap out of evil snow creatures, ancient demons, and the two-fisted studliness of Santa Claus himself.
Encounters with Christmas and historical icons, although none of them are quite what the players might expect: Ebenezer Scrooge and Tiny Tim, King Herod the Great and Baby Jesus, Dasher, Dancer, Prancer and Vixen, Comet and Cupid and Donner and Blitzen - and the unbridled sex appeal of Mrs. Claus.
Horror, heroism, humanity, humor, history, hubris ... and shameless alliteration.
Every one of the more than 46,000 words of ;Kringle are geared for where the good stuff happens: ;with your friends at the gaming table, with encounters designed to draw PCs into conversations they'd never thought they'd have, battles with foes they never thought they'd meet, and toward making choices they'd never imagined they'd one day make. This is a bigass adventure that demands to be played, and one that you'll want to run every year as a holiday tradition.
A Kringle in Time is an 85-page PDF designed for clean printout on any home or office printer. It requires a (free) copy of Risus: The Anything RPG to play.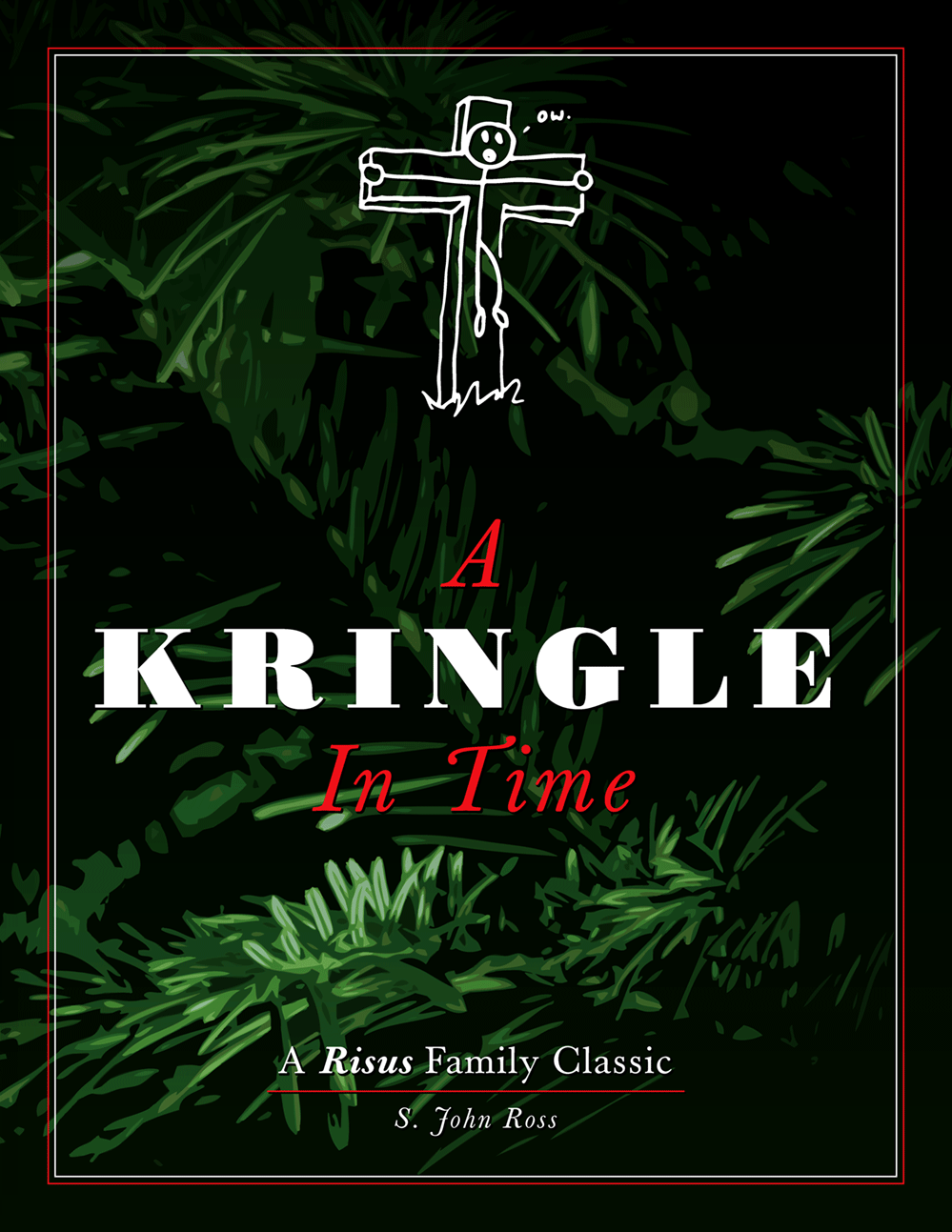 Purchase
In order to download this Christmas mega-module you must purchase it at or above the minimum price of $14.95 USD. You will get access to the following files:
Risus - A Kringle in Time.zip
9 MB
Download demo