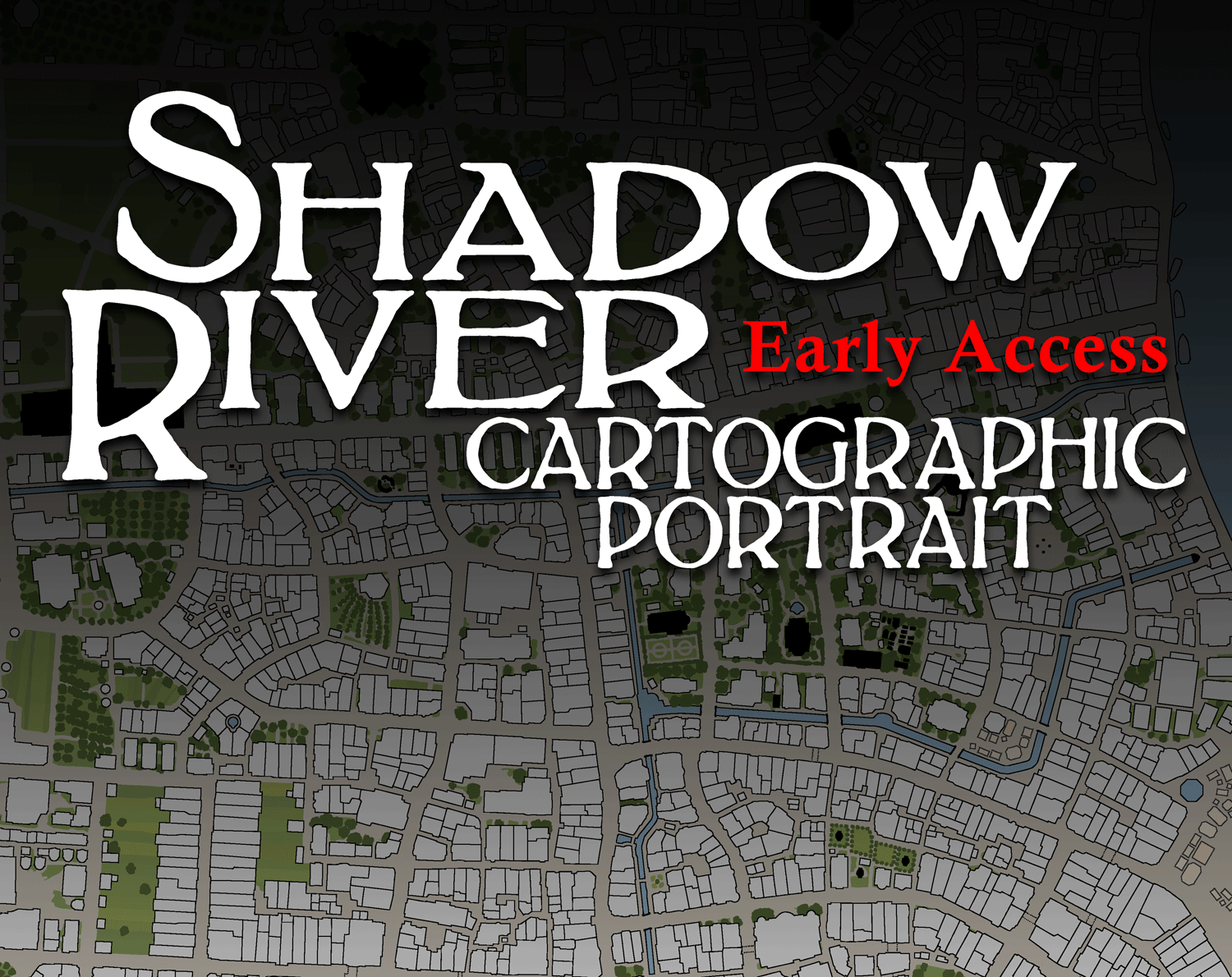 Uresia: Shadow River Cartographic Portrait
A downloadable fantasy city map-set
This is the fantasy city map I've been drawing for the past few years, now complete … a detailed "cartographic portrait" of Shadow River, the city which I first wrote about in Uresia: Grave of Heaven. Every edition of Uresia has a map of Shadow River already, but it's a simpler map showing neighborhood boundaries and major streets.

I GM sessions in Shadow River often, so I've always wanted a more detailed, buildings-and-trees, footpaths-and-alleyways map, and I've always wanted a map of what's just outside the walls, even though I knew it would require more hours of work than Uresia itself ever did. And it has.
As of this writing I've poured approximately 450 hours into the cartographic portrait, and the actual building-the-map part of building the map is done, available for your perusal and exploration: every building, tree, footpath and alleyway is there, along with a roughly equal amount of extramural territory, in comparable detail. It's pretty damn fine, if I do say so.
But there's work, still, to be done: My goal is to produce a handsome PDF of plates exploring the city in a useful way for printing and gaming-with: grid plates that can be assembled into the entire map, and specially-chosen plates zeroing in on each neighborhood and other useful cuts. I also have other versions in mind, along with new text to accompany the maps.
But, the world being what it is today, I can't know for sure if I'll ever complete all of those, so I've made the complete master map, in multiple styles, available right now. This set currently contains the following:
Shadow River Interior Raster - 300dpi jp2k: A toned-and-textured poster map of the city interior (with extramural parts omitted), in 300dpi with max-quality JPEG2000 compression applied.
Shadow River Interior Raster - 600dpi HI-C: A toned-and-textured poster map of the city interior again, but this time at 600dpi with Hi-Compression applied.
Shadow River Vectors Complete Version A: My favorite screen-browsing version, this is the entire map, in resolution-independent vectors, with lots of color. It's not very print-friendly but it's nice for on-screen exploring.
Shadow River Vectors Complete Version B: Similar to the above, but designed for print-friendliness with white rooftops.
Shadow-River-Casual-Browse-Version-150dpi: An easy-to-navigate lower-resolution version of the Interior Raster. See the Publisher Preview link for how much is visible at this scale, and see my DeviantArt page ("Temphis") for a free copy of this file.
Shadow River Foggy 45 Poster Design jp2k: This is a lossless jp2k PDF of a design I made specifically for a print-on-demand poster, where the city is rotated 45 degrees in the manner of the original grayscale BESM maps, and the details outside the walls are visible, but fade into fog, emphasizing the city while still presenting it in context. Due to the production specifics at Redbubble, this image is approximately 363dpi. [Added February 2021]
Plate Mockup Barrack Gate Area: A 600dpi toned-and-textured mockup of a plate, this one focused on the Barrack Gate area, both extramural and intramural.
Plate Mockup West Gate Area: A 600dpi toned-and-textured plate mockup again, this time focused on the West Gate (the gate itself, both intramural and extramural, not the "West Gate" district as a whole).
The Shadow River chapter from Uresia 2nd Edition: If you're new to Shadow River, here's its 16-page chapter from the Uresia worldbook, complete with the neighborhood-scale city map and more. Uresia's kind of odd, but I like that about it.
Furthermore, if everything goes well and I do live to complete the book of plates (and history, and commentary), that version will be a free upgrade at no extra charge, when (if) it happens. But if I don't make it out of the Pandemic, well, this will be my last published item, and I'm proud to present it as it is.
Notes and Data
Within the gameworld, this map is a product of two Dwarvish cartographers, a husband-and-wife team who escaped slavery in Orgalt, and through a series of comic misadventures, became Royal Cartographers to the king of Rinden. It's worth noting that they have never set foot in Shadow River, but still assured His Majesty a "depiction accurate to within One Long Stride." Their plan of the city was a product of espionage, derived from dozens of earlier, often stolen, plans of the city's details.
Maps this detailed are normally state secrets, but through another series of comic misadventures, a book of plates based on the Rinden map became a novelty item on sale in Shadow River itself, and it's that book that I hope to create in the future, complete with advertisements and other fun stuff, along with additional material describing sundry relevant comic misadventures.
It's beloved, the favorite map of the city by those who live there, even though finding inaccuracies has become a kind of pastime – or perhaps, because of it.
According to the last ducal census, the resident population of Shadow River is just over 40,000, but the real population (including both resident and non-resident sailors, merchants and other travelers taking temporary lodging) ranges from about 48,000 to more than 53,000 depending on time of year. There are more than 15,000 buildings inside the city walls, more than 10,000 of which are inhabited (containing one or more Dwelling Units) with an average population of 2.95 per Dwelling Unit, 4.72 per inhabited structure, and 5.24 per inhabited structure at the busiest times of year when including estimated additional non-resident population. The city's rate of abandonment (buildings empty and in declining condition) is approximately 5%. The city covers 236-238 hectares, depending if you include the outer circuit (the city walls) in the coverage total. The map's depiction of extramural land covers about 235 hectares (not including the open water of Shadow River or the bay).
There are 16 leagues of major streets in the city (cart legal) along with uncountable minor ways (but you're welcome to try). The total length of the exterior circuit is approximately 6,526 long strides (about 6 kilometers).
The map scale for the cartographic portrait (and the mockup plates) is 1:3168. The full-sized map (including intramurals, extramurals and a white border) is 30 real-world inches per side, and the map represents an area half a league per side. Shadow River as depicted is roughly similar in scale to late-medieval Paris.
And I guess that's it for now. I hope this finds you well and safe, with gaming to look forward to in the future.
I'm proud you got to see this map. There are a lot of campaign memories baked in, and a lot of details that await the exploring eye. Take your time, look close, pick a street and walk it in your mind. Toss a pebble into one of the stonegullies and raise a tankard in one of the pubs.
Don't get the creamed chipped boar at Gristleman's, though; he overcharges and you can get much better at the breakfast buffet at Voroch Meadhall. Plus Voroch has a nice row of pinball machines.
Purchase
In order to download this fantasy city map-set you must purchase it at or above the minimum price of $14.95 USD. You will get access to the following files:
Shadow River Cartographic Portrait.zip
90 MB
Download demo