Uresia: Lore & Curiosities
A downloadable resource collection
In addition to the core worldbook for Uresia: Grave of Heaven (and its supplements, like Caravel), Cumberland Games has produced a sizeable library of free supplementary files. Uresia: Lore & Curiosities collects many of these in a single catalogue item so you don't have to rummage for them! It includes the following:
Spider Meat: Giant spiders, mercantile espionage, celebrity chefs and courtly romance collide in this glance at the Boru blacklands and some strange characters you might meet there. By S. John Ross
Uresia Summer Short-Fiction Anthology: Twenty-one works of fantasy short fiction set in heaven's grave, by Uresia fans all over the world.
Uresia Winter Anthology: Another collection of fan-created work, this time straight-up gaming articles to contrast with the summer's story focus.
Temphis Freeware Fonts: Seven different rune fonts, each presenting the runes used in Uresia in a different style, these are free supplemental fonts to the commercial Temphis Runes set (including obscure promotional styles difficult to find elsewhere).
Uresia First-Edition Maps: A complete set of the original monochrome maps from the Guardians of Order Uresia books, preserved for long-time fans (or as a curiosity for newcomers who just enjoy fantasy maps).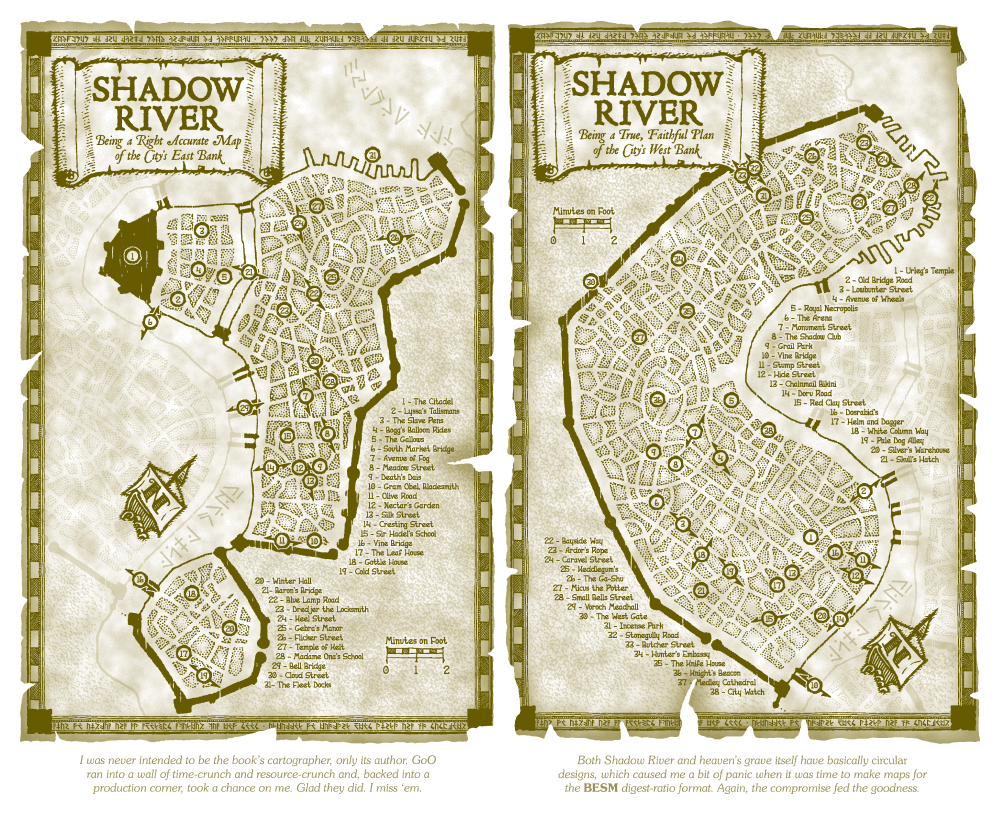 Cast From Paradise: a brief glimpse at the history of Shadow River, from an unusual perspective: patrons who've been banned from Nectar's Garden, the city's beloved Elvish brothel. By S. John Ross.
Scott's Landing: it's kind of an article about the titular town (down the river from Rogan's Heath), kind of an article about the hidden world of chimney sweeps, kind of an article about Prince Yoma, kind of an article about Rinden nobility and the stains of the Koval War, and kind of an article about a disease that drives Slimes insane. But the map is a map of Scott's Landing, so let's call it that. By S. John Ross.
Mirecourt Town Plan: A map depicting a prosperous Rinden town, east(ish) of Reed Hill where the rolling meadows of the midlands sink toward the Dance Marshes.
Uresia Arcana: A set of map-symbol and decorative fonts from the earliest days of Uresian cartography; use them to create Uresia-style maps and graphics for your campaign! Includes fonty versions of the islands, Shadow River, the Rogan's Heath buildings and more.
The Uresia Master Index: An expanded, alternate version of the Index from Grave of Heaven, smoothly merging references to the main book to references to all the supplements. This is an index for Uresia, Caravel, the Rune Guide, Cast From Paradise, Coatestown, Scott's Landing and Spider Meat, all at once. Ideal if you keep a binder.
If you're new to Uresia, this is a ... weird way to start, but weird and Uresia get along. If you're a long-time fan, this is a handy way to have access on this site to things previously scattered across the setting's online presence.

The Uresia library includes Uresia: Grave of Heaven (the main worldbook) and a handful of supplements sold separately: Caravel (ghost flax and shipboard life), The Temphis Runes (font set and mystic oracle), The Empty Atlas (blank maps for GMs to make stuff with) the Shadow River Cartographic Portrait, and the Lore & Curiosities freebie set! The Toast of the Town and Slimes in Blossom Grove modules for Risus take place in Uresia, too!

Download
Download
Uresia - Lore & Curiosities.zip
22 MB